Cabel ties
Fastener Division of Avery Dennison entered the cable tie market over 30 years ago developing innovative products to solve specific problems of bundling and fastening cables. Their unique stretching process enables to manufacture cable ties of highest quality featuring high efficiency and wide scale of application.
Fasteners Division of Avery Dennison disposes with following certificates:
ISO/TS16949 Certified Quality Management System
Cable ties correspond to all UL and Military Specifications
All products correspond to RoHS (Restricted or Hazardous Substance)
Certified OHAS18001 Health and Safety Management Systém
Certified ISO14001 Environmental Management System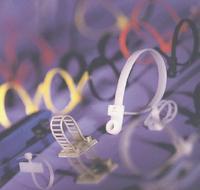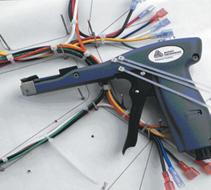 Types and sizes
It is most probable that we can make cable tie for your needs. Avery Dennison cable ties are delivered in lengths from 80 up to 1530 mm and made of 3 different material.
With tensile strength up to 350 kg and bundle diameter from 1,6 mm do 460 mm we are sure to have cable ties for your application. Besides traditional cable ties we offer also wide range of special ties, adhesive mounts and application tools.
Mini/Intermediate/Standard/Heavy Duty/Extra Heavy Duty – length 102 – 864 mm, tensile strength up to 350 kg

Slim line ties – perfect for applications where space is limited, have a smaller head and a narrower cross section

Relaseable cable ties – solution for prototype installations or for equipment requiring frequent modifications

Super Bar-Lok cabel ties – are superior to conventional cable ties, higher tensile strength, less weight, more flexible, more resistant(weather and petrochemical resistance)
Double-Headed Ties – allow to harness two bundles simultaneously or provide a means to position and anchor a single harness

Stopper Ties & Merchandise Pairing Ties – have a unique "stop" which allows for a consistent bundle diameter, perfect when you want to prevent your bundle from being cinched up tightly

Ladder Ties – strong enough, weigh less than conventional cable ties, more flexible, approved by the big three U.S. automotive companies, cost effective solution for pairing, tagging, securing and bundling

Identification Ties – are used for bundling and identification purposes, textured tab may be heat stamped or marked with special cable tie marking pens

Push Mount & Winged Push Mount – simply push into a pre-drilled hole for a simple and secure one piece harness, winged Push-Mount ties are for variable panel thicknesses up to 3,17 mm and a hole diameter of 6,35 mm

Screw Mount Ties (Montážní pásky se šroubkem) – are preferred when position is critical or the operation requires the product be pre-mounted to a surface before final assembly

Secur-A-Tie & Secur-A-Seal – commonly used in the retail market for tagging and securing merchandise, Secur-A-Tie offers economical bundling and attaching solutions, Secur-A-Seal is also used in other markets, particularly when cost is an important consideration (tamper evident applications)

FlipClip – can be easily repositioned or removed and eliminate the need for installation tools

Installation tools - brand Avery Dennison means industrial standard as regards operator comfort and safety as well as heavy duty construction for production line environments